Clarion Group Designs for Progress
Food Service Facility Planning and Design
Whether you're planning a new facility or renovating an existing service, Clarion's imaginative, practical planning and execution will assure you of a successful outcome.
Research has shown that customers equate "healthy" with "fresh" and define fresh as "made while I watch." This standard is at the core of our food service designs.
Feasibility Study
We'll learn your requirements, survey and analyze the potential sites or existing facilities and recommend the best approach to meeting your objectives.
Concept Development
The service concepts we develop will meet customers' needs and expectations imaginatively and provide for efficient, convenient service and an economical operation.
Design
We plan employee or student dining facilities to meet key customer needs: fresh, wholesome meals; foods "ready to go" for those who want to make a selection and consume the meal elsewhere, and a comfortable, welcoming environment. Our innovative dining center designs provide:
Meals prepared at the counter, to the customer's order, as practical. This approach minimizes the space needed for the kitchen and support areas, as well as delighting the customer.
Convenient placement of "grab-and-go" displays for the customer in a hurry.
Smooth traffic flow in the servery and at the cashier station.
Efficient, labor-saving equipment and layout in the kitchen.
We also develop and plan:
Specialized facilities for executive dining, conference services and catering.
Informal cafes and limited service outlets.
In-house retail stores.
Our associated design firm, Raymond/Raymond Associates has created hundreds of successful designs for on-site operations.
Learn about our
extensive Management
Consulting capabilities Take a look at our
Hospitality Management services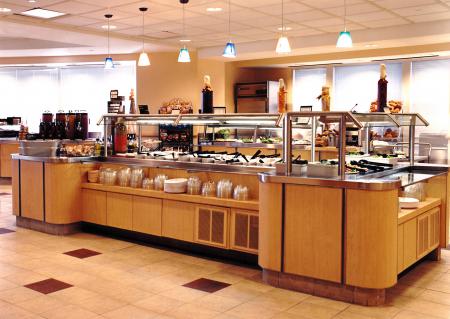 A Little Less Onion Please