Clarion's Diverse Client List
On-site clients nationwide have tapped Clarion Group's food service expertise.
Organizations we have helped include:
Education
Brandeis University, Waltham, MA
Bryant University, Smithfield, RI
City University of New York, New York City
- Graduate School and University Center
- Hunter College
- Queens College
Fairfield University, Fairfield, CT
Georgia Perimeter College, Clarkstown, GA
Iona College, New Rochelle, NY
Hudson Valley Community College, Troy, NY
Mott Community College, Flint, MI
New York Institute of Technology, Old Westbury, NY and New York City
Phillips Academy, Andover, MA
Phillips Exeter Academy, Exeter, NH
Rhode Island College, Providence, RI
Rhode Island School of Design, Providence, RI
Saint Anselm College, Manchester, NH
Salem State College, Salem, MA
Selkirk College, Castlegar, BC
University of California Merced, Merced, CA
University of Massachusetts Medical School
Wentworth Institute of Technology, Boston, MA
Wheelock College, Boston, MA
Corporations
Brown Brothers Harriman & Company, New York City
Corning, Inc., Corning, NY
Dow Corning Corporation, Midland, MI
Estée Lauder Companies, New York City
Gannett Company/USA Today, McLean, VA
General Electric Company, GE Plastics Division, Pittsfield, MA
Gilead Sciences, Foster City, CA
Hobbs Brook Management, LLC, Waltham, MA and Park Ridge, IL
The Jackson Laboratory, Bar Harbor, ME
Moody's Investors Service, New York City
Panasonic Corporation, North American Division, Secaucus, NJ
Prudential Financial, Newark, NJ
Science Applications International Corp., McLean, VA
Telcordia Technologies, Piscataway, NJ
USAA Real Estate Company, San Antonio, TX
Vision Service Plan, Rancho Cordova, CA
Government and International Institutions
Brookhaven National Laboratory, Upton, NY
Federal Reserve Board, Washington, DC
Inter-American Development Bank, Washington, DC
International Monetary Fund, Washington, DC
Lawrence Livermore National Laboratory, CA
U.S. Department of Agriculture, Washington, DC
U.S. Naval War College, Newport, RI
Professional Firms
Davis Polk & Wardwell, LLP, New York City
Fried, Frank, Harris, Shriver & Jacobson, LLP, New York City
LeBoeuf, Lamb, Greene & McRae (now Dewey & LeBoeuf, LLP), New York City
Ropes & Gray, LLP, Boston, MA
Shearman & Sterling LLP, New York City
Skadden, Arps, Slate, Meagher & Flom LLP; New York City, Washington, DC, Los Angeles, CA and Chicago, IL
Wilson Sonsini Goodrich & Rosati PC, Palo Alto, CA
A complete list of clients and contact information will be furnished on request.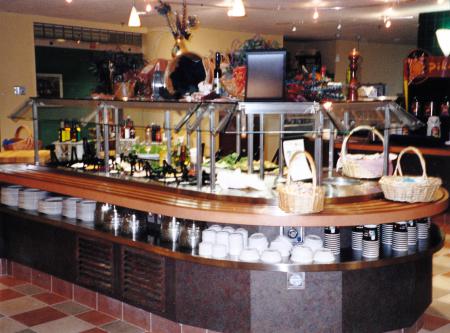 What are your issues?
Do you recognize any of these issues in your operation? We can help you find solutions to problems that are obvious:
Poor quality
Unsatisfactory service
Unimaginative menus and limited choices
Lack of value—the customer does not believe the meal received is worth the price.
And, help you with those problems that aren't so obvious:
Unsafe food handling practices that may lead to food borne illness
Unsanitary and unsafe conditions
Inefficient operating systems and labor deployment
Improper handling and maintenance of equipment and facilities
Poor purchasing practices
Inaccurate or incomplete accounting and reporting systems
We can help you identify these deficiencies and find solutions.